Marine Villa, The Art Deco House on the Isle of Wight offers luxury self catering family holiday accommodation
Luxurious Glamour From A Bygone Age
Marine Villa has 6 Large Bedrooms, Stunning Views, accommodation for up to 14 adults and 5 children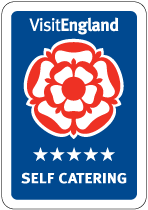 A wonderful original Art Deco House overlooking Sandown Bay on the Isle of Wight, England's holiday island, offering a self-catering holiday like no other.
Marine Villa offers spectacular sea views (and sunrises) over Sandown Bay towards Culver Cliff. This magnificent villa was built in 1929 and takes full advantage of the cliff-top location, and is probably one of the Isle of Wight's premium properties.
This grand detached house has decadently proportioned rooms: all main living and bedrooms have large windows topped by stained glass detail, framing the vistas. Art Deco influences include an upstairs sun room with huge sliding picture windows to enjoy the breathtaking sunrises by day and bay illuminations by night. Huge stained glass windows bring out the oak-panelled hallway, magnificent staircase and galleried landing.
Sleeping up to 14 adults (plus 5 additional children) across 6 bedrooms (plus the 'Morning Room' which has 2 additional single day-beds), with a magnificent Art-Deco Drawing Room (seating 18 comfortably) and an 18 seater dining table, this house is perfectly suited to a multi-generational family get together (it has mobility access for wheelchair users) for a self catered holiday, where you can treat the magnificent house as your own, with total privacy for your extended family.
Most of the furniture at Marine Villa has been rediscovered and is lovingly resurrected from the 1930's. From the walnut cocktail cabinet in the lounge (which apparently was used on the Elstree Studios set for Cat on a Hot Tin Roof) to the stunning wardrobe and dressing table suite set in Bedroom 4, which were rescued from a house in East London, this house is simply Art-Deco at its best. We are constantly acquiring new (old) pieces to further enhance our house.
Start your day in Marine Villa, by experiencing the most stunning and beautiful colours of sunrise, by leaving your seaward facing curtains open, even just a little so that you awake naturally. The sunrise photo shown here is a 100% genuine view from the window, taken on a mobile phone!
From Marine Villa , there are wonderful cliff top walks (or runs) and you are right above the beach (actually it is a lot of steps to get down, perfect for walking off the dinner). If you have the excuse of a pushchair or use a wheelchair, then you may take the more leisurely slope down! There are lots of cycle routes across the island. The whole of the Isle of Wight awaits you.
Five Stars Award by VisitEngland (the English Tourist Board) with GOLD standard (October 2015) for exceptional cleanliness and excellent customer service.
Visit-Britain Mobility Grade 1 & 2
Included in the price are all linens (bedding and towels, except cot bedding), and free wifi.
Marine Villa is fully licensed and we can provide a personally selected small list of magnums of excellent wine, Champagnes and a case (or two) of  fine wine from Sharon's personal wine cellar. These are not the sort of wines you would find at your average supermarket or wine merchant. If you want more details, please remember to ask, as she can only supply if you pre-order. At an additional price, we can provide a special dinner including an in-house chef and hostess/stewardess for the evening or freshly pre-prepared gourmet meals delivered which you simply heat up and serve. A special event cake can also be organised.
Guests in 2015 included several multi-generational groups getting together to celebrate a special occasion, groups of close friends, members of the House of Lords, a senior UK Government minister, several members of the UK press, pre-wedding gatherings, groups of mums with their children (and some without!) and gatherings of friends/family wanting to go away together for a long weekend or school holidays.
Marine Villa, The Art Deco House: Prices and Booking Enquiries